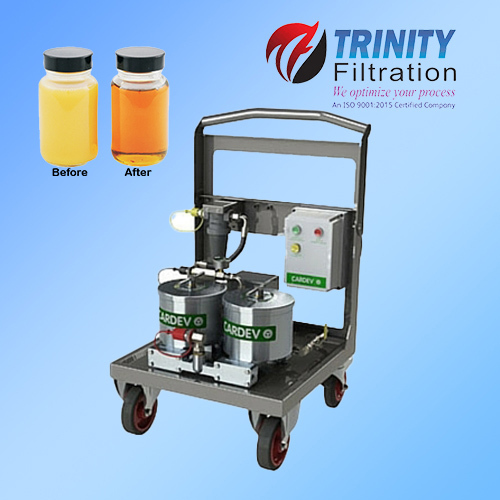 Mobile Filtration Systems
Product Code : mobile-filtration-system
Product Description
Our offered Mobile Filtration Systems have particle counter with an integrated moisture sensor for monitoring the cleanliness of oil. These systems are featured with excellent load capacity trolley which has 4 castor wheels for smooth movement. Our provided systems are ideal to filter different types of oil such as engine, gearbox and cutting. With a change of filter cartridge, these Mobile Filtration Systems can also filter water-based fluids such as water glycols.


Key features:

Come with up to 30000 ltr storage capacity tanks
Has in screen display
Also, equipped with dual monitor sensors
MOBILE FILTRATION SYSTEMS
Description
Our mobile filtration systems allow filtration to take place independently of your machinery, and as there is no need for permanent installation one unit can service multiple machines. Filter oil in barrels before / after use. Transfer oil into sensitive machinery via filters. Maintain fluid in bulk storage tanks (up to 30000 ltr.). And dont limit yourself to hydraulic oil, we can also filter transformer oil, cutting oil, gearbox oil, engine oil etc or, with a change of filter cartridge (to the SDFC-P), we can even filter water-based fluids (water glycols, metalworking fluids, wash fluids), whilst removing any free oil contamination / trampoil.
The ED range represents our most technologically advanced oil filtration equipment. The ED systems all have self-contained pumps (220V or Air motors available) meaning oil can be cleaned independently of the system. Static volumes of oil (barrels, IBCS, shutdown machines, storage tanks etc.) can be filtered.
Standard Features Include :

Sample Points

Stainless Steel Construction

Integrated Filter Housings

Large Bag Filter ( Pre-Filter)

Transfer Facility - Speedy fluid transfer using only the pre-Filter

Integrated drip tray - avoid potential slip hazards

Digital pressure guage

Run dry protection

Intelligent Controls

On Screen Display
Optional Additional Features Include :

Particle counter with integrated moisture sensor - monitor the cleanliness of your oil, know when filtration is complete.
Connect a PC via USB and use our bundled datalogging software to provide a record of filtration - ideal for service history,
maintanance records etc.

Pre-Heater When operating in colder environments or filtering high viscosity oils a pre-heater will allow fast filtration.

Dual monitor sensors - provides a notification when your filter cartridges are fully saturated with water.

Using a CARDEV SDFC filter cartridge, water and particle contamination ( causes of 95% of hydraulic breakdowns) are
removed, leaving your oil "cleaner than new" - ISO code 15/13/9 and>0.005% RH moisture content.
Contact Us
204, 2nd Floor, Varun Arcade 1B, Near Lawkin Company, Ghodbunder Road, Thane West, Thane, Maharashtra, 400610, India
Phone :+917259311407