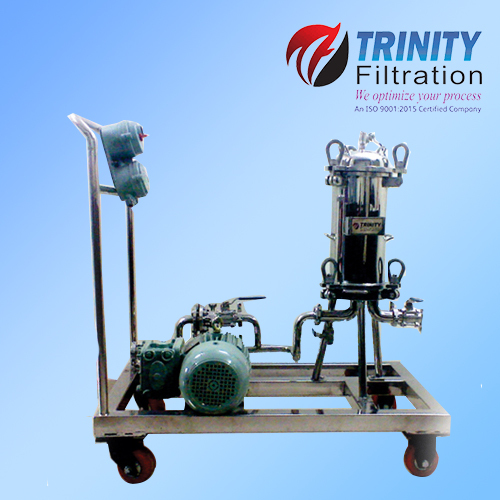 Oil Purification Systems
Product Code : oil-purification-systems
Product Description
We are known in the market for providing the best quality Purification Systems which are ideal for filtering lube oil, hydraulic oil, machine cutting fluids and coolants. These systems can be utilized directly as an ON-LINE and OFF-LINE filtration equipment. Also, any manufactured systems are featured with leak-proof pump, excellent speed motor and rugged & stable trolley. Furthermore, these Oil Purification Systems are known for their reduced downtime and higher assets availability.


Key features:

Also, filter water-based fluids
Equipped with pressure gauge and interconnecting pipe
Extends the lifespan of seals
Oil Purification Systems

Trinity Oil Purification Systems can be used directly as an ON-LINE or OFF-LINE system depending on your shop-floor need. Trinity Oil Purification Systems allows filtration to take place independently of your equipment / machinery operation and there is no need for permanent installation per machine as one trolley / skid mounted unit can service multiple machines. Trinity Oil Purification Systems can be used for filtration of Lube Oils, Hydraulic Oil, Machine cutting fluids, Coolants, etc. including other applications like filtration of transformer oil, gearbox oil, engine oil etc. Trinity Oil Purification System can even filter water based fluids (water glycols, metalworking fluids, wash fluids), whilst removing any contamination from the oil. Trinity Oil Purification Systems can be fairly automated with Self-Priming Pumps, Pressure Gauges, Interconnecting Piping and provision for testing / measuring devices like Particle Detector, Moisture Sensor, Particle Counter etc.
Features:
Particle Removal: Coarse filtration application
Particulate removal to meet NAS Cleanliness standards
Moisture/Water Removal
All Free Water and > 99.9%
Emulsified / dissolved water removed
Improved Reliability
75% - 80% of hydraulic problems are related to inadequate Contamination control practices
Longer Service Intervals
Reduced Down time
Higher Asset Availability
Main Advantages:
Reduction of Waste Oil, Wear, Malfunction and Downtime & labour costs
Simultaneous filtration of particles and water contamination
Minimizes corrosion and cavitations
Extends the life span of seals
Enhances filterability
Contact Us
204, 2nd Floor, Varun Arcade 1B, Near Lawkin Company, Ghodbunder Road, Thane West, Thane, Maharashtra, 400610, India
Phone :+917259311407