Dual Flow Bag Filters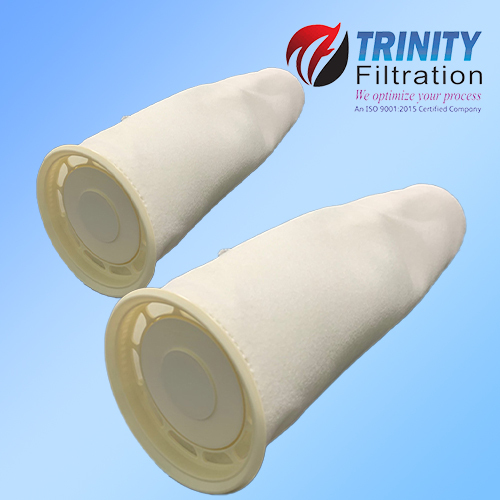 Dual Flow Bag Filters
Product Description
TrinityDual Flow Bag Filter has a unique design which is the smartreplacement for conventional bag filters. Dual Flow Bag Filter comprises twofelt cylinders welded from the top and bottom of the filter. The felt cylindersare manufactured from the graded porosity media structure. The design increasesthe filter surface area by 65%, which leads to better filtration and longerservice life.
The Dual flow bag Filter comprises a support basket that helps thebag to stay intact in the most demanding condition. It eliminates stretching ofmedia hence ensuring the filter integrity.
Featuresand Benefits:
High dirt loading capacity and longer servicelife
Positive seal tightness to prevent bypass.
Reduces flux for improved efficiency
Silicone free.
Filter Specification:
Material Of Construction

Polypropylene

Polyester

Micron Rating

1,5,10,25,50,100,200 Micron

Size of filter bag

Size 1 (7 Dia X 14.3 Length)

Size 2 (7 Dia X 27.8 Length)
Recommended Operating Conditions

Operating Conditions

Polypropylene

Polyester

Maximum Operating Temp C

80 OC

135 OC

Recommended Maximum Flow Rate
(LPM )

280 for Size 1 bag filter (7 Dia X 14.3 Length)

570 for Size 2 bag filter(7 Dia X 27.8 Length)

Maximum Pressure Drop Allowed

35 PSID @ 68 F (2.4 bar @ 20 C)

Recommended Change Out Differential Pressure

1.5 kg/cm2 (21 PSI)